News from Bunbury SES  we have a special occasion we'd like to mention and have acknowledged by all.  Our Local Manager, Chris Widmer ESM  has amassed a whopping 45 years of service to the Bunbury State Emergency Service!
Chris is still a pivotal component of Bunbury's SES operations. His contribution to Emergency Services over the years has been second to none, dedicating and sacrificing large portions of his life to furthering volunteers and their capacity to serve their communities safely and effectively.
Quite a few moons ago, at a time some members would argue dinosaurs were still roaming the earth (c March 1978), cyclone Alby hit our region, prompting Chris and a couple of his scallywag friends to pitch in and help the town recovery from the massive impact the town took. After the taste of operational duties, which you would easily refer to as a baptism of fire, he joined the Bunbury SES paving way for a passionate life ahead of exemplary service to his community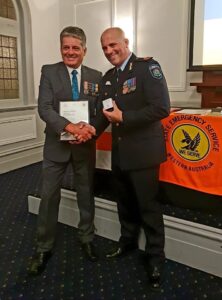 With the completion of numerous SES/Emergency Management courses, he has been qualified as a Trainer Assessor for a large portion of his volunteer career to date. Chris' Incident Management Skills have been utilised locally and with deployments to significant National emergencies including New South Wales (on several occasions) and throughout Western Australia.
He was endorsed 'Incident Controller' for Level 3 (highest of three levels) fires and natural hazard emergencies, (currently holds ICLvl1), with extensive experience in managing significant emergency events. The latest being part of the Incident Management team during Cyclone Seroja in WA's north, 2021.
Coupled with tertiary-level qualifications, being a Grad. Cert. in Applied Management, Advanced Diploma in Management, plus the formal training, and assessment competencies, all of which have provided the Bunbury SES with invaluable knowledge. His mentorship, to new, young, and old is outstanding, along with every other aspect in his role(s), and is something he holds to the highest standards of professionalism.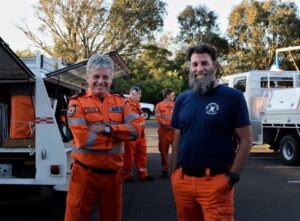 Chris has been a very active member of the Bunbury SES Unit all through his 45  years of volunteering service. He has taken on various roles within that time, some of which include Team Leader Storm Ops, Team Leader Land Search &Recue, and Training Manager, and since 2014 he has been our solid foundation as the Local Manager. He also held a role as Regional Representative – Southwest with the SES Volunteers Association of Western Australia Incorporated (SESVA) for several years.
Chris represented WA at the 2003 National Disaster Rescue Challenge (NDRC) in Tasmania, leading the Western Australian team to 3rd place and being runner-up Team Leader for that competition, Chris was also leading a team to compete for WA in the NDRC due to held in 2020 in NSW, but subsequently postponed and then cancelled due to COVID-19 restrictions
Chris was awarded the Peter Keillor Award (Awarded to a dedicated SES member who has made an exemplary contribution to the service and community during their time as a volunteer), the Emergency Services Medal in January 2002 Honours List, as well as the National Medal for Service and clasps.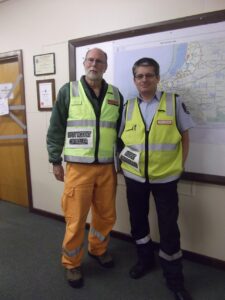 Though we hold this amazing man up high, where he undoubtedly deserves to be in our eyes, there is one chink in his armour, yet he won't admit it, but his humour can be somewhat of a concern. Often dry and full of borderline decipherable puns, that at times leave you questioning your own capacity to think logically, ensures there's never a shortage of eye rolls and groans of saddened amazement at our weekly briefings!
Chris, from us all here at the Unit, your time, effort, patience, passion, respect, and morals within the Unit have been and are beyond outstanding. You've helped shape the past present and future of the Unit in a fashion that you should be holding your head high with nothing but pride, your impact on the Unit and the ethical imprint you leave on people is something to be seen.
With the highest regard and admiration, thank you for your continuing service, Mr Widmer from the Bunbury SES.
Greg Cook SESVA President said," On behalf of the SESVA and I am sure all SES Volunteers in WA I would like to congratulate Chris on reaching this important milestone in his SES Service. Your many years of service are a true testimony of your dedication and commitment to the SES and the Community, and you are truly valued for your contributions.  
Greg also said:" I want to express my gratitude and appreciation for your efforts over the years as you realise this milestone. Dedicated SES Volunteers like you are the foundation of the State Emergency Service in Western Australia. Thank you for your service.