Kalbarri SES April 2021 report:
April 2021 will go down in history as Kalbarri SES's busiest period of all time! The unprecedented occurrence that was Tropical Cyclone Seroja will rewrite the history of Kalbarri and the local SES unit. All at Kalbarri SES wish the local community all the best with the recovery from this epic event and we all hope that Kalbarri will come back stronger and better while our heartfelt wishes go out to all those who lost their homes, property and safety and security during the event.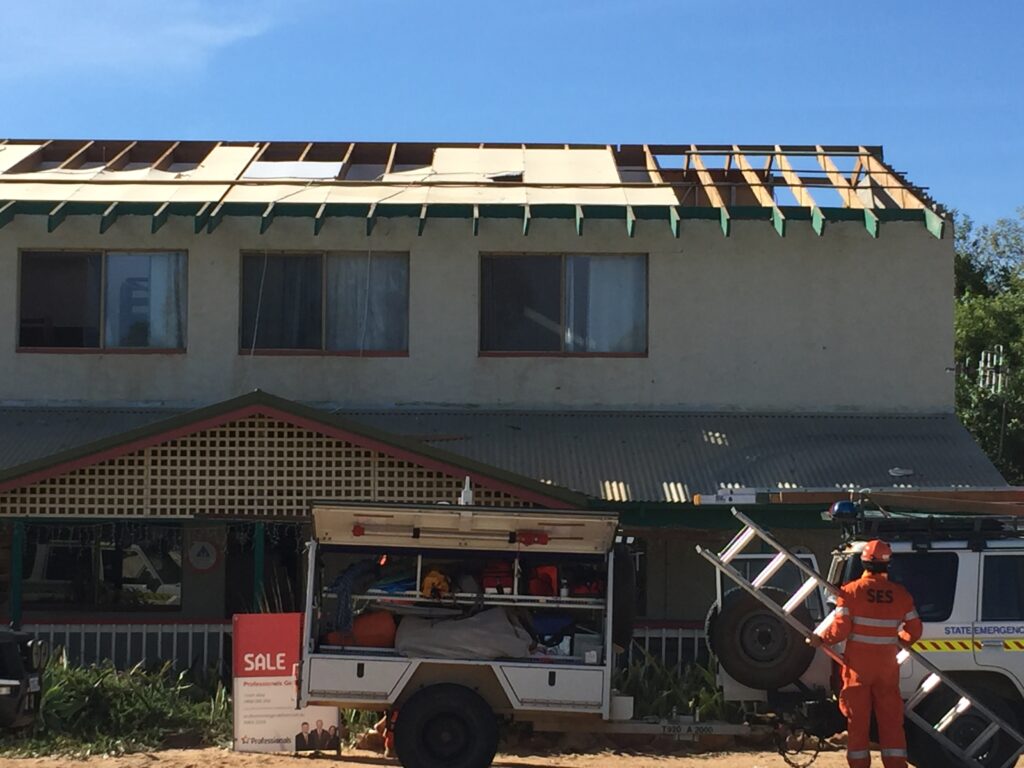 The event provoked a massive nation wide response with SES and other response units attending Kalbarri from all over WA and the eastern states. As usual our Kalbarri Fire and Rescue Service, St Johns Ambulance, Police, VMR and Parks and Wildlife and all other local emergency response agencies stepped in to help in any way that they could.
Over the past weeks volunteers have attended several thousand jobs. We have tarped many, many roofs, removed debris, cleared fallen trees and generally cleaned up. It is a great reward each day to see Kalbarri looking a little bit cleaner as the storm debris is gradually cleared away. 
I have no doubt that we are facing a long hard recovery from Tropical Cyclone Seroja and we can assure you that Kalbarri SES will be working along with the community all the way.
As an SES unit Kalbarri responded to Tropical Cyclone Seroja utilising all of the training that we have completed over the years. Local volunteers have been involved in running the local command centre, manning communications, coordinating responses, providing highly trained teams to complete emergency storm repairs and property stabilisation and accessing and distributing items such as tarpaulins and generators.
The best news to come from the impact of tropical cyclone Seroja is the fact that there were no fatalities or serious injuries involved in this event. I am certain that if we had failed in our efforts to prepare the community and evacuate tourists from the town this would have been a much different and much sadder story.
We would like to thank our local community for the support and assistance that has been provided to all response agencies during the event and wish everyone all our best wishes for a positive recovery.
Operations:
Tropical Cyclone Seroja:
During the weeks leading up to April 11 Kalbarri SES became aware of the threat of a Tropical Cyclone effecting Kalbarri. During this lead up we kept up to date with DFES and BOM briefings and closely followed the modelling that suggested that TC Seroja may cost the WA coast in our vicinity. As the event got closer we became more and more conscious of the likely impact on Kalbarri and the adjoining areas. As the risk increased we stepped up preparation with members preparing our storm response equipment ready for action and formulating response plans. In the days leading up to Seroja we worked proactively to encourage the evacuation of tourists from Kalbarri and encouraging those booked in following the event from coming to Kalbarri. This was completed with fantastic cooperation from local accommodation & tourism services, caravan parks and resorts.
On the afternoon of Sunday April 11th Kalbarri was placed in Cyclone Red Alert. Local SES crews conducted patrols of the town encouraging those still out and about to take cover. A couple of hours before the predicted storm impact we retreated to the unit headquarters in McGee Crescent where we hunkered down monitoring the storm front and waiting for the impending impact.
At about 8.00pm the storm hit. We were impacted at our headquarters with extreme winds and driven rain and the sounds of debris being blown about. We had to reverse our vehicles up against the roller doors at the front of our garage to prevent them from being blown in while water was forced through our office window sills saturation our radio and computer equipment.
In a short time we were busy answering phone calls from impacted members of the public but were unable to respond due the ongoing tempest.  Eventually the storm abated and when safe, we sent patrols out to assess the impact. We were absolutely dumbfounded by the damage caused to Kalbarri! Seeing the impact we were certain that people must have been injured or trapped in buildings and we were anticipating that we would be called upon to complete rescues and recoveries.
We realised very quickly that we would require enormous resources to deal with this disaster and we took photos of the devastation so the we could forward them to the relevant response agencies to appraise them of the level of destruction.
Within hours we were inundated with calls for assistance and commenced to respond. Many local SES volunteers worked for up to 48 hours without a break. For the next 2.5 weeks local volunteers gave up their normal lives to try and look after the local community and we continue to attend to jobs at the writing of this article.