Vertical Rescue Training
Leon Gardiner reports that the combined SW/LSW Vertical Rescue Team participated in Vertical Rescue continuation training on Sunday 12th June 2016 at a site in the Boranup Forest known as Wi 16. This site is collapsed portion of a cave that is available for use with permission from Parks & Wildlife. The training involved members from Augusta/Margaret River, Australind, Bridgetown, Busselton and Bunbury units, with the aim of the training being to provide an opportunity for members to hone their skills in rope mobility and rescue systems.
Between the SW and LSW we hold 6 of these regional continuation training days every year, in addition to SRR and RRS course and unit level VR training sessions.
This particular day was organised by one of our VR Team Leaders David Hull from Augusta/Margaret River SES, and it involved completing two rescues at this site based on two different scenarios presented to the team. The first rescue involved a casualty stuck mid pitch, with injuries to their arms and legs and the second rescue involved a casualty who had fallen from height to the bottom of the site whilst trying to free climb.
Both of these scenarios presented some interesting challenges to our Team Leaders and members, the site where the rescues took place were somewhat confined and had multiple options to consider in relation to the type of system that could be implemented.
We managed to get through the first rescue without any rain, however whilst packing up the first rescue the heavens opened up we all spent the rest of the day rather wet due to the continued rainfall. Despite the rain the team got stuck in and completed the second rescue without any concern for the rain's impact on the team. Both rescues were completed safely with the successful result of getting the casualties off to further medical treatment.
A great day had by all with some good learnings for all.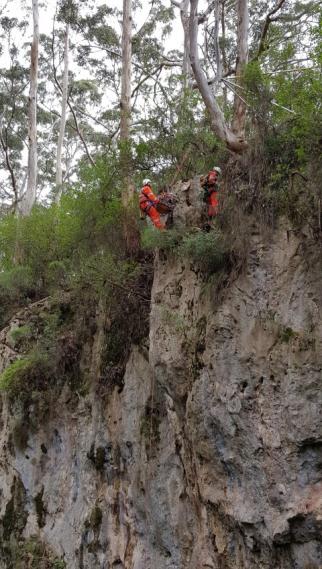 Vertical Rescue Training