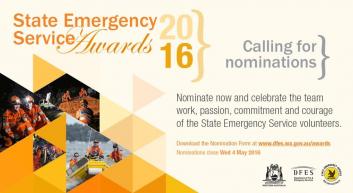 Nominations for State Emergency Service Awards closing May 4
The annual SES Volunteer Awards night recognises the significant role played by SES Volunteers in the delivery of emergency services in Western Australia.  The annual SES Awards night relies on having a number of nominations for each category to make it a worthwhile and fun night.
The nominations for these annual SES awards will close on May 4 2016.
There are three categories;
Peter Keillor Award – demonstrating a high level of dedication and commitment to the SES.
Team Achievement Award – outstanding results in a particular area.
Youth Achievement Award – a Volunteer (16/25) years who has made a valuable contribution to their Unit.
The nominations form and more information can be found at this link.  http://www.dfes.wa.gov.au/newsandmedia/awards/Documents/14413-SES-EDITAB…
Or contact the SESVA Secretary Lin Booth or myself at sesva.office@ses-wa.asn.au if you require further information or some assistance.
The SES Volunteers Association encourages as many nominations as possible in recognition of the excellent work done by SES Volunteers.
Please consider nominating a team or Volunteer from your unit.
Gordon Hall
SESVA President