Phil's Travels
Whenever I travel Australia, I, like most SES Volunteers, watch out for things that are SES.  Here are some "SES" photos from my recent caravan travels to SA, Victoria and NSW. During that time I meet with some senior SA SES staff (ex Volunteers), a Board member for Vic SES and also a longstanding Volunteer. I also met with some Volunteers of the Bright SES Unit in a country music/fundraiser afternoon.  The Bright SES unit includes Road Crash Rescue and Alpine/Snow Rescue in their recue response roles, traversing the Snowy Alpine Mountain regions.
Phillip Petersen ESM
SESVA Representative SE Region and SES Volunteer
Here are some photos from my travels.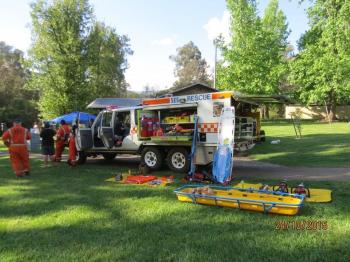 Country singers Carter & Carter sing at SES & CFS community fund raiser in the very green  Bright Centenial Park. Note the 6WD (not just a lazy axle) Landcruiser to suit the Alpine country of operation.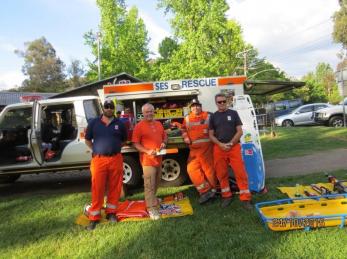 Be Seen. This Gippsland SES Unit in Victoria can't be missed, located in the main street of their community.