Broome SES News
The Mangrove Hotel hosted an event late last year that included a rescue demonstration by the Broome State Emergency Service (SES) volunteers in conjunction with SES Week. (You ran this story for us at the time). As part of their generous involvement in hosting the event, the Mangrove Hotel also donated a significant amount of the takings from the evening to the Broome SES Unit to purchase a new data projector, wall-mounted television and the associated wiring and other accessories for their training room.
OHM Electronics also became involved by assisting with the installation of the data projector and television.
This upgrade has now replaced old equipment and has already been used for training, providing the volunteer unit with modern equipment that can be used for a variety of applications and will ensure that they are able to access the latest technology to assist them with conducting regular training courses and maintaining their core skills.
The Broome SES are always looking for new members and encourage anyone wishing to be a part of volunteering within their community to call them for more information on 0417 937 073.
Many thanks.
Matt Reimer
Natural Hazards District Officer | West Kimberley | Department of Fire and Emergency Services
Kimberley DFES House | Corner Carnarvon & Frederick Streets | Locked Bag 2743 Broome WA 6725
T: 08 9158 3209 | F: 08 9193 6744  |  M: 0417 977 584 | E: matthew.reimer@dfes.wa.gov.au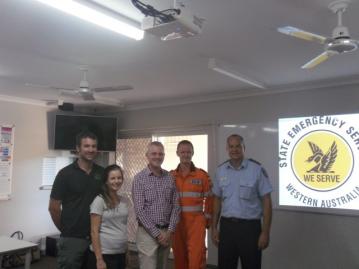 Broome SES Training Room with new Data
Projector and Wall-Mounted Television. Left to Right – Josh Bairstow
& Alice Ralston from OHM Electronics, Richard Fanshawe – Mangrove
Hotel Food & Beverage Manager, Rob Philips – Broome SES Volunteer
Local Manager & Matt Reimer – DFES District Officer.