Rockingham-Kwinana SES Awards Night
The 2015 Awards Night for the Rockingham SES Unit was held on Friday night 20 November.  The guests included a/g Superintendent Peter Sutton, District officer Will Blackshaw, City of Kwinana Councillor Wood, City of Rockingham's Helen Edwards, and a surprise drop in of the previous local Manager Mike Wadley.  A good time was had by all.
A number of presentations were made;
a/g Superintendent Peter Sutton presented the DFES Ten Year Service Medals to Ian Renton, Jim Bratby (in absentia) and Ant Rees.
The Section Leader's Award went to Laura Brabazon
The Oops Award went to Tim Lambert (for dropping the emergency power room key into the fuel tank)
As the recipient of the George Earnshaw Award was unavailable this will be announced and presented at training.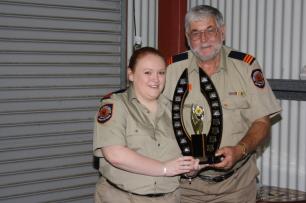 Laura Brabazon being presented with the Sections Leader Award by Dave Beard Local Manager