The SES Communications Support Unit is holding an open night on Wednesday 22nd July 2015 at 6:45PM. 91 Leake Street, Belmont.
We are an active volunteer SES unit that fall under the Department of Fire and Emergency Services. Much of the work we do involves fires and searches so unlike other SES units, we are generally most active over the fire season assisting the fire crews on the ground with reliable and efficient communications equipment and temporary repeater installations as well as providing subject matter experts to give communications advice during times of need.
We participate in searches as well by providing a similar service to what we do for fire. We also work at incident control points and within emergency operations centres to provide members to operate and log base radio communications to and from crews and units in the field. We are also on call for some of the larger storms where we will provide members to task SES Requests for Assistance to local units around the metropolitan area.
We deal with a wide range of radios including Vertex, Philips, Motorola, Tait, Codan, Q-Mac and more. We setup cross band repeaters as well as Spectra VHF repeaters, Clark Masts (PU12 is the most common), Yagi antennas, Folded dipoles, C-linears, Inverted V's and many other type of antenna arrangements. We have the capability to deploy our BGAN (Thrane & Thrane Explorer 700) to remote areas with no phone or internet coverage as well as 3G Phone and Fax equipment. We have a variety of other equipment that we work with such as generators, mast climbing gear, solar panels, weather stations and technicians measuring equipment so there is a very wide variety of things to learn to hopefully interest most people.
We train each Wednesday night in different disciplines of communications and we run small exercises within our unit, and with other SES and Fire crews every so often. There are also a variety of DFES Courses that are held on weekends throughout the year which you can nominate for a place on that train in aspects of Search, Leadership, Communications, Field Equipment, Working in an Emergency Operations Centre, On road and Off Road Driving, General Rescue, Vertical Rescue and more.
Please call or SMS 0429 113 834 or email administration@csu-ses.com.au to RSVP for our open night on Wednesday 22nd July 2015 at 6:45PM or contact me here. Please feel free to ask me any questions about what we do and how you could get involved.
Open Night Flyer >CSU-Flyer.pdf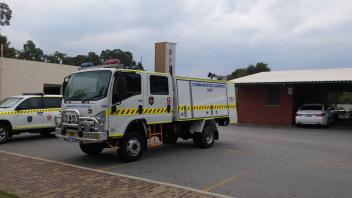 CSU Vehicle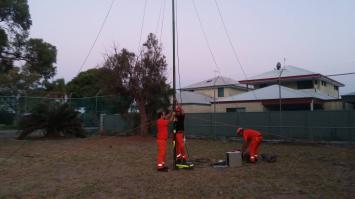 CSU Members at work