A milestone for Serpentine Jarrahdale SES Unit
The Serpentine Jarrahdale (S-J) SES Unit held its inaugural Annual General Meeting last night. Local Manager, Martin Seward said "It had taken some months for incorporation to progress, but this first AGM set a new management theme for the future."  In attendance to witness the historical milestone were representatives of Local Government, DFES, SESVA and of course the unit Volunteers.
Following the AGM, SESVA President, Gordon Hall, passed over the keys to the last bus that had been funded by BHP-Billiton, stating "That the buses had been of great benefit in assisting DFES with fire crew changes in recent fires."  This was the last of the eight small buses that had been provided via BHP Billiton Community Funding Program in partnership with the State Emergency Service Volunteers Association.
The eight new buses have been entrusted to Armadale, , Kalamunda, Serpentine- Jarrahdale, Mundaring, Newman, Karratha, Northshore, Rockingham and Kwinana SES Units to assist with emergencies and training. This was possible thanks to a $542,000 grant from BHP Billiton.  In the past five years, BHP Billiton has invested more than $275 million in health, education, indigenous development and community infrastructure initiatives in Western Australia.
Phillip Petersen ESM
Photos: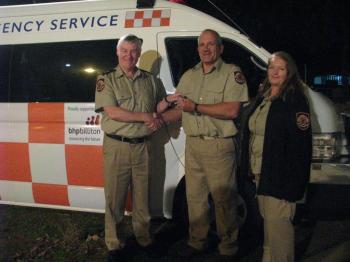 SESVA President Gordon Hall handing over keys to S-J Local Manager Martin Seward with SESVA Representative Kylie Griffith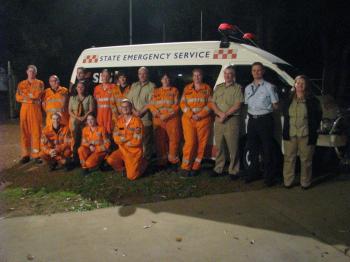 Group photo of S-J SES Volunteers and guests in front of new bus