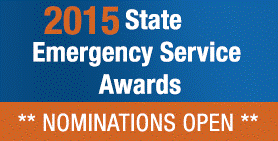 NOMINATIONS CLOSING SOON
Do you know somebody who deserves to be recognised for their outstanding contributions to the State Emergency Service?

SESVA President, Gordon Hall, said "This is an opportunity for SES Volunteers and DFES staff to recognise the good work done by SES members who have done an excellent job in supporting their community and fellow Volunteers in the preparation and response for natural and man-made hazards."  The prestigious annual awards are fast approaching and the deadline for nominations is just around the corner.
With a variety of award categories available, I encourage you to nominate a worthy candidate for the State Emergency Service Awards.  The awards honour the achievements of individuals and units who have gone beyond the call of duty. Please take the time to consider who among your peers is deserving of this recognition.
Nominations close on Friday 29 May at 5pm.

Further information about each of the awards, including categories and nomination forms, can be found at www.dfes.wa.gov.au/awards.
Please contact DFES Events Coordinator Zoe Fulwood on 9395 9894 or email awards@dfes.wa.gov.au for further information.