Gosnells SES Celebrates 35 years Service
A mile stone in the history of Gosnells SES, a celebration of 35 years service to the community of Western Australia.  The unit was formed at the request of the local government, "Town of Gosnells". The SES was to provide a rescue capable emergency service to the area as there was no full time emergency service in the area at the time. It was to overcome an emergency service vulnerability to the area under the new SES formation that had been established by the state and federal governments. The transformation of Cold War instigated Civil Defence to a volunteer rescue service capable of meeting community needs was occurring across Australia at the time.
Councillor Ken Clarke, who proposed the concept, then, went on to become the first Local Coordinator (now Local Manager) with Jim Ridgwell one of the original unit SES volunteers still serving today.
Current Local Manager, Paul Hollamby, said Tthe Gosnells SES unit volunteers should be proud of the contribution the unit has given to the community of Western Australia in the past 35 years. Whilst SES volunteers don't join for accolades, the unit's history of National Medals, Australian Honours and other awards show the significant commitment of the volunteers".
Construction for a new and modern Local Headquarters is due to start soon on the Kenwick Link Bypass, a co-location with the City of Gosnells Bush Fire Brigade.
Today (Sunday 18 May), the unit sold sausages at Bunnings Maddington, whilst promoting the message to the community about preparing for storms. We were able to provide a good demonstration at times with today's weather.
Phillip Petersen ESM                  Gosnells SES Volunteer
Photos: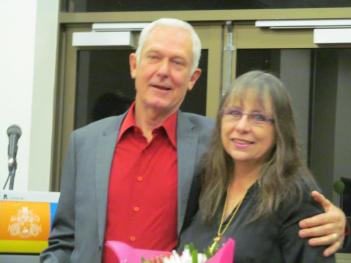 Jim and his wife Denise after accepting his 35 year DFES/SES Service Award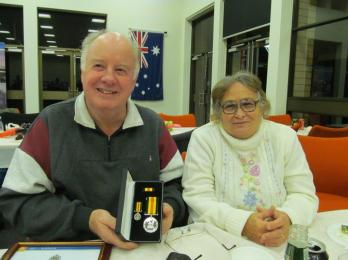 Alan White and his wife Jan, with his 10 year DFES/SES Service Award