Broome SES gets a new Local Manager
After nearly 7 years as the Local Manager of the Broome SES Unit, Laurie Hicks has decided to step down and take a well earned break. Laurie moved to Broome in 2006 after being a member of the Bayswater SES for nearly 7 years. 2 years later in 2008, he took over the Local Manager position in Broome. During his tenure, Laurie was involved in numerous operational incidents within the Kimberley region, including searches and cyclone and flooding events, as well as being deployed to other regions to assist with large scale incidents. He has also assisted as a Trainer on numerous courses throughout the region and was a qualified trainer in a  number of SES specialist skills. His involvement and interest in vertical rescue over the years has encouraged other members to participate in training courses and assisted in Broome SES being recognised as a Primary Vertical Rescue response unit. Laurie was also instrumental in the transformation of the Broome SES Unit building. Successfully obtaining a grant through ESL funding, he donated a huge amount of time and labour into the complete redesign and construction of the building, creating a more modern, open plan facility much more fit for purpose.
On Monday 9th March, at their regular training night, Laurie was presented with a Certificate of Appreciation by the DFES Kimberley Superintendent, Grant Pipe to recognise his outstanding efforts during his tenure as Local Manager. He was also presented with his 15 Year Service Clasp for his combined service with the SES within the Bayswater and Broome SES Units. We all wish Laurie and his wife Monica all the best for the next chapter in their lives.
With the resignation of Laurie comes the appointment of a new Local  Manager for the Broome SES Unit. After nearly 4 years as a member of the Unit, and having been acting in the role since the start of the year, Rob Philips was officially presented with his Letter of Appointment by Superintendent Pipe. Rob and his wife Carrie-Ann have been regular and active members since 2010 and have been heavily involved in the recruiting, training and development of new members. Rob is looking forward to the challenge of the new role and thanked Laurie for his efforts over a long period.
Photos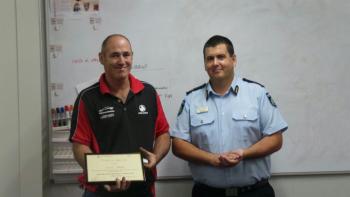 Laurie Hicks being presented with his Certificate of Appreciation by Superintendent Grant Pipe.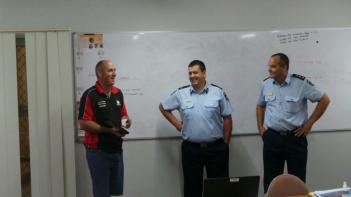 Laurie making a speech – with Superintendent Grant Pipe & District Officer Matt Reimer.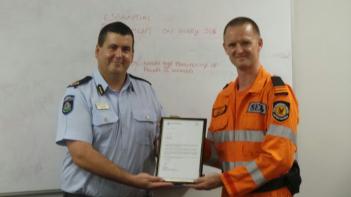 Rob Philips being presented with his Letter of Appointment by Superintendent Grant Pipe.
Matt Reimer
Natural Hazards District Officer | West Kimberley | Department of Fire and Emergency Services
Kimberley DFES House | Corner Carnarvon & Frederick Streets | Locked Bag 2743 Broome WA 6725
T: 08 9158 3209 | F: 08 9193 6744  |  M: 0417 977 584 | E: matthew.reimer@dfes.wa.gov.au