Volunteer Employer Recognition Awards program
Every year DFES runs a Volunteer Employer Recognition Awards program to recognise the employers of emergency services volunteers, who play a critical role in the protection of the Western Australian community.
This year, Broome Progressive Supplies picked up an award for their support of 2 of their staff, Rob Philips and Sue Robinson, who are also Broome State Emergency Services volunteers. As the Director of Broome Progressive Supplies, Scott Mills has generously and willingly allowed both Rob and Sue to attend incidents such as searches for missing people, storm damage incidents and logistical support for bushfires during their work time.
Matt said "DFES developed the Volunteer Employer Recognition Awards to acknowledge the invaluable support that employers provide to their staff who are also emergency services volunteers. This support significantly contributes to the delivery of vital emergency services to the community and ensures that there is a timely and effective response to any emergency incidents or events that may occur."

Matt Reimer
Natural Hazards District Officer | West Kimberley | Department of Fire and Emergency Services
Kimberley DFES House | Corner Carnarvon & Frederick Streets | Locked Bag 2743 Broome WA 6725
T: 08 9158 3209 | F: 08 9193 6744  |  M: 0417 977 584 | E: matthew.reimer@dfes.wa.gov.au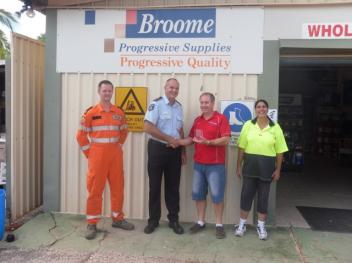 Left to right – Rob Philips, DFES District Officer Matt Reimer, Director of Broome Progressive Supplies Scott Mills and Sue Robinson – outside Broome Progressive Supplies.