The official launch of the new Give 2 Good Foundation was undertaken last Friday night by Her Excellency the Honorable Kerry Sanderson AO, Governor of Western Australia, together with Honorable Michael Mischin MLC, Attorney General.  Give to Good is Western Australia's newest community foundation, created to help every day philanthropists give to good causes.   Two deeds of Trusts have been signed by founder Dr Penelope Flett AO,  and  the  Public Trustee of Western Australia to create two trust funds. Dr Penelope Flett AO is a former WA Australian of the Year and ardent supporter of the aged, disability and community sectors.  Public Trustee, Brian Roche said Give2Good will help to boost philanthropic giving in WA with donors no longer needing to go to the expense of setting up a philanthropic structure of their own.
"Many of our Will clients want to include a charitable bequest and West Australians have proven time and time again that small contributions can and do make a positive difference to worthwhile causes."   In attendance at the launch were members of the judiciary, government agencies, community and charitable organisations, including SESVA Committee person, Phillip Petersen ESM on behalf of SES Volunteers.
Donors can use Give2Good to contribute to an existing charitable fund or, if the donation or bequest is greater than $20,000, a cost-effective named account or memorial can be created.  More about these trust funds Public and how you can contribute can be found on the Trustee of Western Australia web site: https://www.publictrustee.wa.gov.au/G/give2good_foundation.aspx?uid=8073…
The Public Trustee is a Statutory Authority responsible for managing the financial affairs of at risk Western Australians. The Public Trustee manages approximately 5,000 trusts with gross assets valued at $1.3 Billion and is custodian of over 100, 000 wills in the WA Will Bank.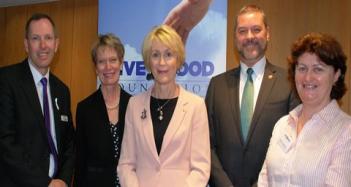 Photo:  (L to R): Brian Roche Public Trustee; Dr Penelope Flett AO; Her Excellency the Honourable Kerry Sanderson AO, Governor of the State of Western Australia; The Honourable Michael Mischin MLC, Attorney General; Cheryl Gwilliam Director General, Department of the Attorney General.