The Buses are coming
SESVA buses are on the way.  Yesterday the first bus was handover to the SESVA at Big Rock Toyota. The buses are next to be given signage, fitted with warning lights and radios.  SESVA Project team members Gordon Hall and John Capes attended and handed over the cheque for the purchase of the vehicles.  The vehicles are owned by the SESVA who will for the next five years cover registration, insurance and annual servicing.  
Despite what some SES Units are being told DFES totally supports this project as stated to SESVA President Gordon Hall yesterday and I quote" After discussions with DFES this afternoon to confirm the position of the buses, they have advised, as always stated by senior management to the Association, that the buses will be treated as if they are a Unit Vehicle".
DFES Operational Communications Group which is part of the Capability Command have been working closely with the SESVA Project team.  DFES is providing and installing radios in all eight buses and satellite phones in the two buses which will be deployed to the North of the State.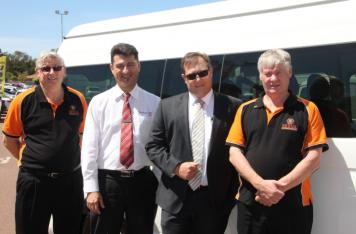 John Capes, Joe Brazzale from Big Rock Toyota, Steve  Mignon Toyota State Fleet Manager and SESVA President Gordon Hall
President Gordon Hall hands over the cheque to Joe Brazzale from Big Rock Toyota
The first of the buses which will go to Northshore SES once fitted out