The SESVA briefs LMs on the status of the SES Buses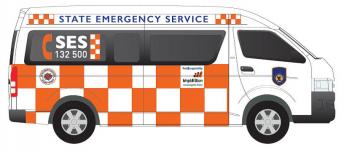 Last night the SESVA project team (Gordon Hall and John Capes) briefed the SES Metro Local Managers for the units who will be receiving the SESVA/BHP Billiton buses.   The first of the SESVA 10/14 seater Buses have now arrived in Western Australia.   The buses spent their first week with Toyota Australia having the ADR requirements completed. They are now being transferred to Big Rock Toyota for pre-delivery actions.
The SES livery will commence later this week and then the WAERN radios and warning lights will be added. The buses for the Metro area are expected to commence roll out in the second week of December followed by the country buses in January.
The grant from BHP Billiton will also cover cost of Vehicle registration and CTP Insurance, Vehicle Insurance and Annual Servicing for the first five years.
The purchase of these vehicles was only possible by the generous support of BHP Billiton's Community Development Program, which has contributed more than $200 million over the past five years to health, education, and Indigenous development and community infrastructure initiatives in Western Australia.
SESVA President Gordon Hall said "That the Association is proud to be a part of the BHP Billiton Program and the use of these buses by SES Volunteers, will be of great benefit to their community during emergency events, as well as during training and preparation of SES Volunteer responders."

The main use of the buses will be;
Transport of SES Search and Rescue teams to other areas to conduct their activities,
General SES Unit activities (Operations, training  and community events),
Make available the bus during emergency operations that DFES is involved in,
General transport of Incident Management team members,
Evacuations of community members during emergency situations including cyclones,
Returning community members to their homes after emergency situations,
Escorting community members to impact areas to enable them to view their properties.
Fire support transporting Firefighters to and from fire grounds which enables shift changes to leave firefighting appliances on scene