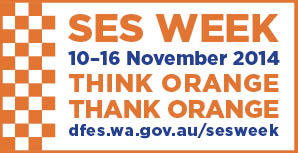 WOW DAY AND SES WEEK 2014
Wear Orange Wednesday (WOW Day) is a national initiative to raise awareness of and community support for the State Emergency Service (SES).  This year WOW Day will be held on Wednesday 12 November 2014. DFES will be coordinating a series of events on this day and throughout SES Week (10-16 November 2014) to recognise the more than 2,100 SES volunteers in WA who dedicate their time to supporting and assisting the community.
On WOW Day, a media event will be held at Blackwall Reach in Bicton to display the skills and competencies of SES personnel in a simulated emergency search, abseil and flood boat rescue.  To show appreciation for SES volunteers, iconic locations around the State will be lit up in a brilliant orange and the SES flag will be flown at the DFES Emergency Services Complex.  Staff and personnel are encouraged to show their support by wearing a flash of orange in addition to their usual work attire. An orange themed afternoon tea will be held at the Emergency Services Complex and regional offices are encouraged to host their own WOW Day events.  DFES will provide funds to SES units throughout the State that wish to host a BBQ, morning tea or similar event during the week to thank their volunteers for their hard work. Please contact your local District Officer for details.
I thank all SES volunteers, as well as the many families, friends and employers who support them, for their contribution and efforts over the last year and for assisting communities affected by natural disasters and emergencies with valuable relief and support. The delivery of fire and emergency services is a collaborative effort, and the SES, along with the all the State's volunteer emergency services are a vital part of keeping Western Australian communities safe.
WAYNE GREGSON APM
COMMISSIONER
WOW Day Flyer – SES DL Flyer.pdf