ATTENTION SES UNITS – YOUR ACTION IS REQUIRED NOW.
DON'T DELAY NOMINATING YOUR DELEGATES,  OR IF YOU'RE A NOMINATED DELEGATE – REGISTERING FOR THE CONFERENCE!
                                            
The advantages of registering early is you are more likely to be placed in a hotel with the majority of other SES delegates.  You will be able to attend the Welcome Sundowner (places are limited), and you can attend the facility tour (also limited places).
If you haven't nominated your unit delegates, please do so by return email ASAP, so we can forward their invitation to register.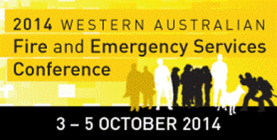 Each SES Unit is invited to nominate two SES volunteers to attend the 2014 FES Conference in October.
Registrations for the conference will close on 1st August 2014, but only nominated delegates may register to attend.
DFES has requested Volunteer Associations facilitate registrations, so,
PLEASE SUBMIT NOMINATIONS FROM YOUR UNIT BY RETURN EMAIL NOW – LIMITED PLACES ARE AVAILABLE
The SESVA will then send each nominated delegate an invitation to register.
DFES will assist endorsed regional volunteer delegates to attend the 2014 Conference by:
meeting the cost of travel, to and from the Conference
meeting the costs of accommodation for the duration of the Conference
organising travel arrangements through travel agent – Carlson Wagonlit Travel Meetings and Events (CWT).
(All Award finalists will be separately invited to attend the conference and have costs covered by DFES.)