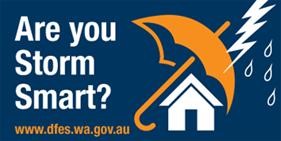 DFES Media and the SES
DFES media have advised the Association today that they have been looking at promotional opportunities for Storm Awareness Week for a few weeks now and wanted to advise what work has been done to date. A short summary is below, just so you know what's going on:
DFES have made contact with radio, TV and print media channels, with ABC radio and 6PR confirming interviews on Monday. Other media outlets are interested but DFES are waiting for them to confirm. (As much as DFES can encourage them and provide opportunities about storm awareness, DFES can't control whether media outlets will run the stories unfortunately.)
A media statement will be issued on Monday to highlight that it is Storm Awareness Week.
Community Service Announcements about storm preparedness have been sent to the emergency broadcasters (ABC and 6PR) and will be sent to RadioWest as well.
 DFES have contacted Main Roads and BOM, who will assist where possible to promote the week through their channels.
The Insurance Council of Australia has assisted with some statistics for media and Western Power is considering what assistance they can provide.
'Are you Storm Smart?' graphics have been scheduled to appear on the DFES website and a DFES staff email signature graphic has been prepared for the storm season. DFES have also attached this for SES volunteers to use if they would like to as well.
As per normal, the DFES team has been busily preparing our community warning templates for the storm season and training new staff as we do prior to every high risk season for each hazard.
DFES advise that the SESVA is welcome to participate in Storm Awareness Week and the ongoing Storm Season campaign as well. DFES also advise that if the SESVA have any ideas for possible media opportunities DFES could explore these next week or in the coming months. Any assistance would be much appreciated.

DFES advise that;
The SES have been mentioned in at least 72 media items over the last month, according to media monitoring.
There was a media alert issued re the Exmouth floods on 27 April. This was a good opportunity to raise awareness of safety during floods (and a bit of SES PR as well!). This prompted the SES being placed into the headline of the home page story in The West online, as well as facilitating the local SES unit's appearance on Channel 9 highlighting the SES role and flood messages in other media. DFES also advise that our team works on these types of incidents quite regularly, as you may not always see them.
Did you see the WA Police at Roebourne acknowledging the SES that saved a man while attempting to cross a creek today – Monday? That was a good story!