SES Volunteers and ANZAC Day Parade
ANZAC DAY PARADE
Ses Volunteers are invited to part of the ANZAC day parade in Perth.  The SESVA have Ash Smith and Phillip Petersen organising the SES side of the march.  DFES have issued their official operational circular that sets out the standards such as No Personal Protective Clothing to be worn.  The Dress for the SES Volunteers is, dress trousers, short sleeve shirt with medals (no tie), and akubra style hat if issued.

Please watch this website for further information from Ash Smith.
DFES Circular ======> 140404 2014 ANZAC Day Parade circular 2014 (1) (1).pdf
Gordon hall
SESVA President
A reminder for wearing of medals:
If they are your military service or civilian service medals, then they are to be worn on the left breast. Members of a uniformed service should wear their insignia on their uniform in accordance with the dress regulations of the particular service.
A custom has evolved for people to wear the awards of deceased family members when marching in their place at commemorative events such as Anzac Day and Remembrance Day. The Returned and Services League (RSL) encourages people to wear their forebears medals on the right breast, which indicates the awards are not their own.
Unofficial medals (eg Queeensland Governement issued service medal). Ideally, unofficial medals should not be worn at public ceremonial and commemorative events, but if they are worn as the occasion demands, the convention is that they are worn on the right breast.
Go to this link for Australian medal information information: http://www.itsanhonour.gov.au/honours/awards/wearing.cfm#When
Those with military service should refer to: http://www.defence.gov.au/medals
The photos gives an example of correct order of precedence for SES honour and service medals: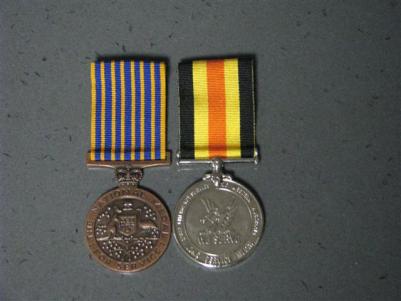 Emergency Services Medal, National Medal, DFES SES Service Medal (Court Mounted);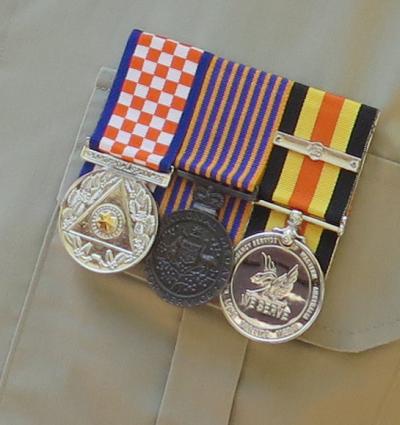 National Medal, DFES SES Service Medal
 
If you wish to have medals "Court Mounted" or Ribbon Bars made, then refer to SESVA web site:
https://www.ses-wa.asn.au/node/2183