SES Local Manager Steps down after a Job Well Done

After 17 years as a Volunteer in the SES, Bayswater SES Manager Andrae Moore, is stepping down from the SES to allow more time to focus on her family and other interests.  Andrae comes from a strong family connection to the SES with her father, two brothers and a cousin all active members of the Bayswater SES Unit.  Her interest started when she was about 9 or 10 years old with her first experience in single rope techniques occurring about this time, when she would climb an eight foot step ladder and, using a jerry built system attached to the limb of a tree, would abseil to the ground – under the watchful eye of her father.
At the age of 15 and still in high school, Andrae could be restrained no longer from joining the SES, especially as Jim Burnett, the then Regional Manager, told her she did not have to wait until she was sixteen.  So at fifteen, Andrae joined the Bayswater SES unit on 4th September 1996 – as a cadet.  By this time Andrae could tie all the general rescue knots and knew the phonetic alphabet.  Within a few weeks she was helping other members, some of whom had been in the unit for months, to learn their knots.
In 1998 Andrae took on the position of unit Communications Officer.  She was also a member of the unit Public Relations Media Task Force.  This group set up promotional displays at local libraries, shire offices and primary schools.
Andrae worked in these positions until moving to Tom Price in October 2003 where she accepted the position of Communications Officer – even before moving to the town. After three months she was appointed Deputy Local Manager.  In November 2004, at the age of 23, she accepted the position of Local Manager. During her time at the Tom Price SES Unit Andrae was able to increase the membership and make it a well-respected Unit in the Pilbara Region.
Andrae was involved in regular SES training and operations in Tom Price until her return to Perth in January 2010. Within a few months Andrae took on the position of Deputy Local Manager at Bayswater SES Unit.  In June 2012 she accepted the position of Unit Manager.
In 2006 Andrae was awarded the "SES Young Achiever Award".
During Andrae's time in SES she achieved many competencies including Chain Saw Operation, Communications Systems, Navigate in Urban and Rural Environments work in an Operation Centre, General Rescue and Search Team Leader.
She was also Trainer in Operations and Trainer /Assessor in Induction and Search.
Andrae's home responsibilities have increased and with a family of five, her own employment and the need to organise the children for school and different sporting activities, she has found that time is very short and feels she cannot continue giving the commitment required to be an SES Local Manager.
The SES Volunteers Association, knowing that it must have been a very hard and emotional decision to make after so many years and achievements, wish Andrae all the best and hope to see her re-join the SES sometime in the future.
Gordon Hall
President SESVA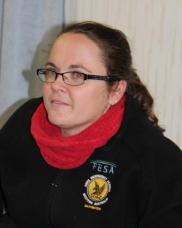 Andrae Moore