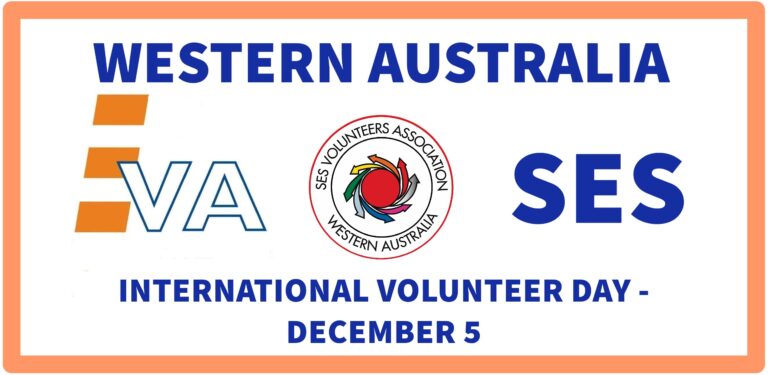 INTERNATIONAL VOLUNTEER DAY – DECEMBER 5
SES Volunteers Association of Western Australia Volunteering WA proudly supports International Volunteer Day (IVD) on 5 December 2023, to raise awareness of the important role volunteers play in responding to challenges facing Western Australia, Australia and the world.
International Volunteer Day commonly known as IVD is celebrated on 5 December every year. It started as an international observance mandated by the United Nations General Assembly in 1985. It's a day where volunteers are acknowledged and the spirit of volunteerism is promoted at the local, national and international levels.
The United Nations Volunteers (UNV) programme joins IVD celebrations with UN Volunteers and all volunteers around the world – amplifying the importance of people-led solutions to our common challenges. Read about the history of International Volunteer Day.

International Volunteer Day (IVD) is celebrated every year on 5 December to celebrate the spirit of volunteerism and recognize the contribution of volunteers worldwide in peace and development, and their contribution to accelerate SDGs at local, national, and international levels.
This year's theme – "If Everyone Did…" centres on 'everyone' and focuses on collective action to work towards Sustainable Development Goals. There is a sense of urgency to respond to global development challenges ranging from climate action to natural disasters, reducing inequalities, hunger to health, and rising poverty to endangered natural resources – all requiring collective action. There is no better call to action than asking everyone to do something to make positive change.

Volunteering in Western Australia
With over 523,000 volunteers in Western Australia many of which are involved in Emergency Services, International Volunteer Day is a day for mass celebration. Volunteer-involving organisations celebrate the contributions of thousands of volunteers who support their programs and services to the community.
Greg Cook SESVA President said, " This day provides the opportunity to acknowledge the important service provided in our case by SES Volunteers for their dedication and commitment to keep the Community safe in Western Australia".