SES Volunteers assist with "Ocean Drover" Fire
SES units with small to medium buses were kept busy, providing transport for Career Fire and Rescue crews for shift changes to the stock carrier ship, "Ocean Drover" that has been on fire in Fremantle Harbour since this Thursday morning.

According to CALLA WAHLQUIST of PERTH NOW news "More than 100 Department of Fire and Emergency Services personnel, including 53 firefighters, are still trying to extinguish the fire that started in the crew quarters of the vessel at 8am."  Source: http://www.perthnow.com.au/news/western-australia/fire-on-live-sheep-car...
 
Extreme temperatures within the steel hull were making it dangerous for the firefighters.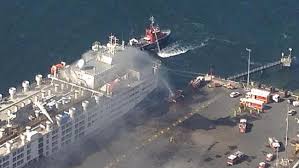 Ocean Drover on fire