Search in Forest
A search for missing person, Robert Fairchild, has concluded today after having been missing for nearly three days. Mr Fairchild was found by SES Vounteers in a poor state and was evacuated by Police helicopter to hospital. WA Police were assisted by State Emergency Service (SES) Volunteers and Department of Parks and Wildlife personnel recommenced the search again today in the forest area near Brookton Highway after a very wet night.
In the attached photo taken yesterday, DFES District Officer, Will Blackshaw, commended and thanked the SES Volunteers during a debriefing as darkness set in on the second day of the search. The duty Police Inspector updated the searchers and also concluded the debriefing with his gratitude for the great effort for searching such a large area.
A Big Thankyou
Please would you pass on a huge Thank you to your volunteers who turned out to search for our son Robert Fairchild who went missing south-east of Perth. We are so grateful for your efforts—he is now on his way to hospital, and I hope he will be well enough soon for a severe dressing-down from his father for putting everyone to so much trouble!
Thank you so much - Alison Fairchild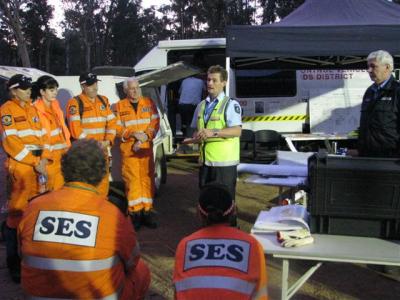 DFES District Officer, Will Blackshaw addressing the SES Volunteers during the end of day debriefing.