TAE Equivalence Workshops
The first of the TAE Equivalence Workshops was conduct last night thanks to host Stirling SES Unit.   The workshops are to assist SES Volunteers who are a current or potential Trainer/Assessors who currently hold the old BSZ or the pre-January 2011 Trainer and Assessor competencies so they can gain 'currency' by holding the 'equivalence' of the TAE Trainer and Assessor competencies.  Those that attended the workshop found the guidance provided by SES Volunteer and retired career DFES Trainer, Les Hayter, of immense value in understanding the process and in completing the required assessment within 3 hours.  The workshops were developed by the SESVA as no clear direction from DFES had been provided until this week; however DFES has agreed to support the Volunteers upgrade.
A number of SES Volunteers with current Certificate IV in Training and Assessment TAE40110 qualifications are assisting Les Hayter with the workshops.  Three more metro TAE Equivalence Workshops are programmed for the metro area.
These are:
Workshop2 - Metro North East - Swan SES Unit HQ Thursday 20th March 1900 - 2200hrs
Workshop 3 - Metro South East - Canning SES Unit HQ Saturday 29th March 1300 - 1600hrs
Workshop 4 - Metro South Coastal - Rockingham SES Unit HQ Sunday 30th March 1300 - 1600hrs
It is planned for some workshops to be conducted in some country regions in the future.    Questions regarding these workshops can be directed to Les Hayter on mobile 0455 243 602.   SES Volunteers are also able to do this upgrade online should they wish to by contacting Brad Knox at DFES Academy on email: bradley.knox@dfes.wa.gov.au or phone 9454 0777.
 Phillip Petersen ESM - SESVA Committee Member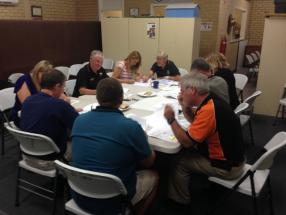 SES Volunteers at the first of the TAE Equivalence Workshops